- June 17th, 2016, 2:06 pm
#4867935
So, as we all know, packs are never really done but this is how mine sits at this point. I will be adding a new light and sound system in the coming months to trigger the ecigs automatically but currently they're on a manual switch. Big thanks to the Finchers as well whom without their help this would not have been possible. It's not the fanciest pack on these boards but it's come a long way and I'm proud enough to post it. Eeek. Keep in mind I am doing this in my apartment with a dremel and a few other things.
Started out as an eBay pack I got a good deal on which I know is somewhat taboo to begin with but hey, it happened. Slowly evolved from a GB2 pack to a GB1 pack and now it's going video game style. There were a lot of things I changed even before this particular upgrade but this thread is meant to focus on this particular upgrade. It's got an Exoray kit and I went with the Jupiter video game board which is mostly the point of this thread. Fitting that board to a shell. This shell is particularly thick so I knew I had my work cut out for me. I also needed to cut the solid n-filter off and add a hollow one for an e-cig as well as correct some of the imperfections in the shell. New EDA discs and Clippard spacer courtesy of Nickatron. Didn't really start snapping shots till after I had begun those things.
I had chipped it pretty bad which you can see at the bottom but it was an easy fix.
Here it is with the new Nick parts and the Fincher n-filter added which I clamped on overnight with gorilla glue.
This is an inside veiw of it. Wasn't sure how large the smoke insert was so I made plenty of room.
After that I started drawing up a template for the board. I knew it would be a lot of adding and subtracting but I wanted a general idea where to cut and drill. Took it down to a flat surface and began.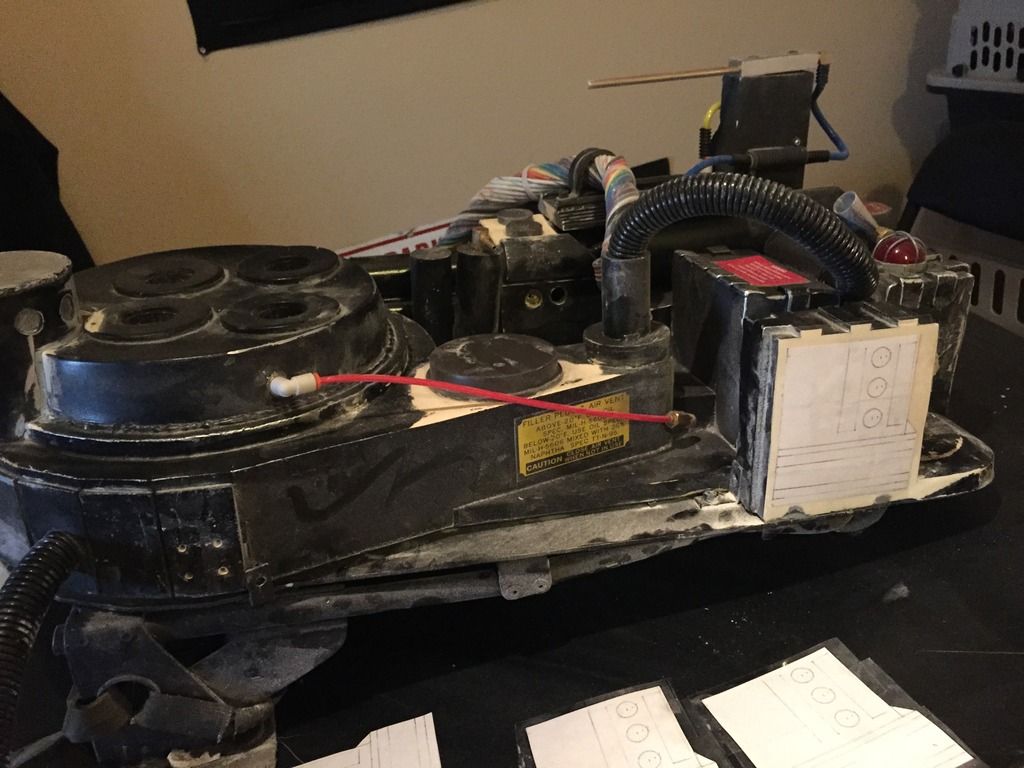 Subtracted as much material from the inside as possible without weakening it beyond reason because I wanted it to protrude through the shell as much as possible. Cut the slots and drilled the holes. At that point it was far too weak to support a Vhook so I created an aluminum bracket to mount it to which would have the screw heads covered and painted.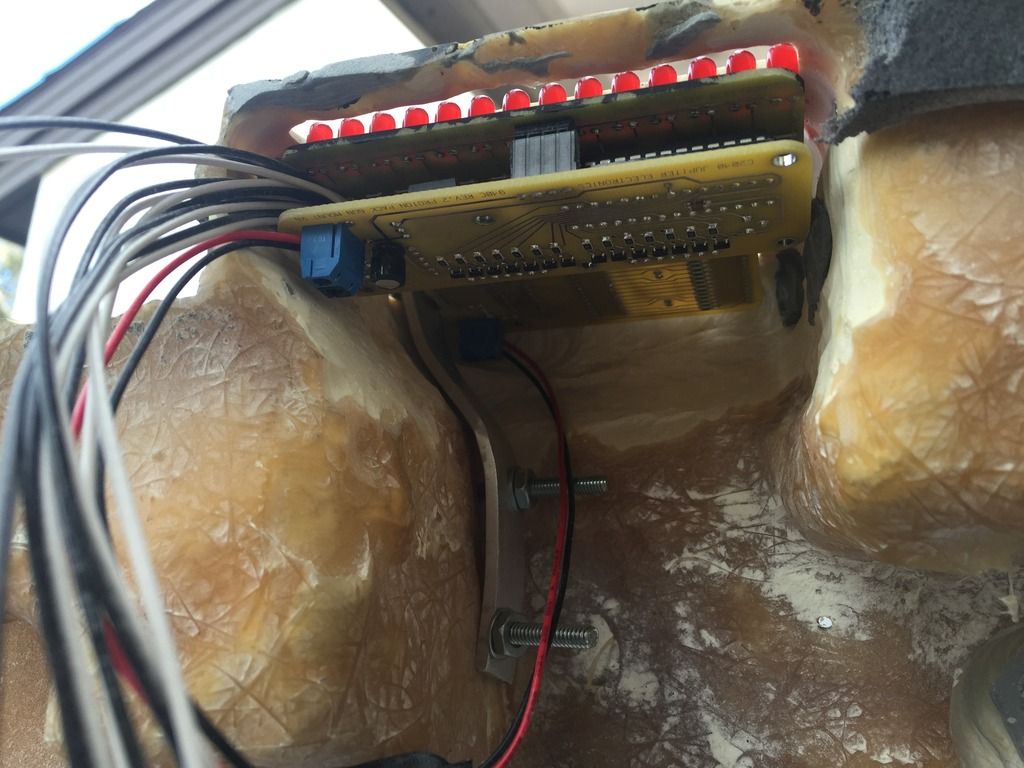 The board itself did need to be trimmed a bit.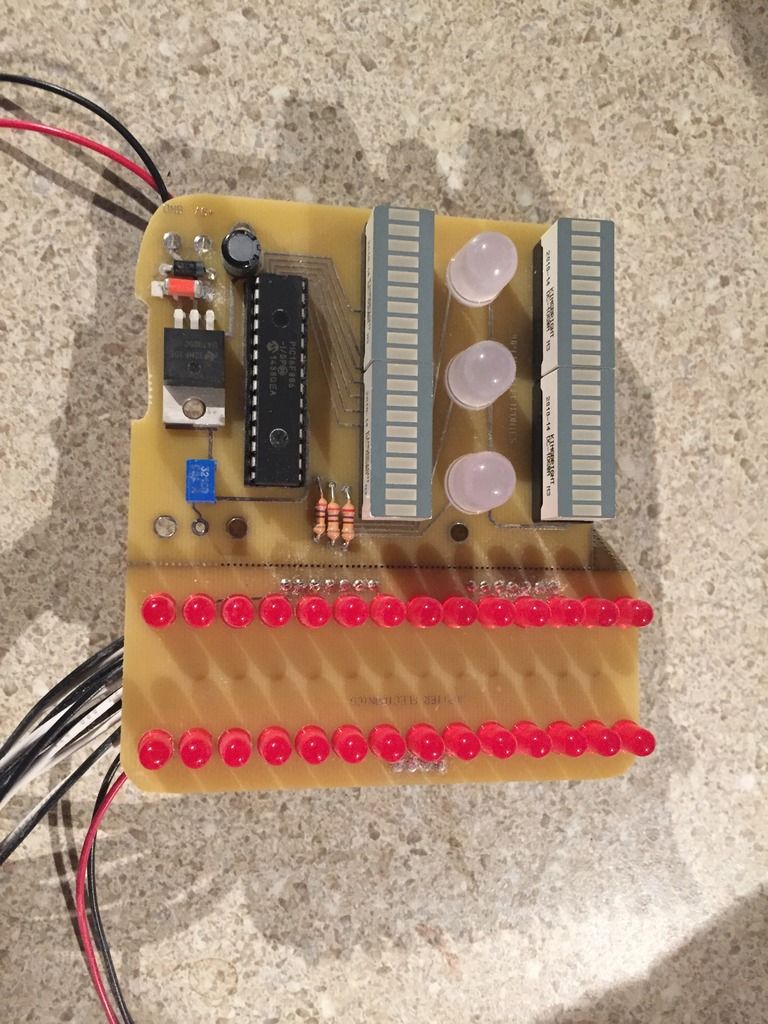 Then it was on to cutting pieces of wood to fit the outside and basically rebuild the proton ribs. I was going to use gorilla glue and clamps but that would have taken forever and made a huge mess so I just stuch them on with hot glue really hard. Also drilled out some washers for the holes.
The wood was overly thick and required a lot of sanding but that was good. The proton ribs required modification on the front side as well since the board doesn't seem to match them exactly.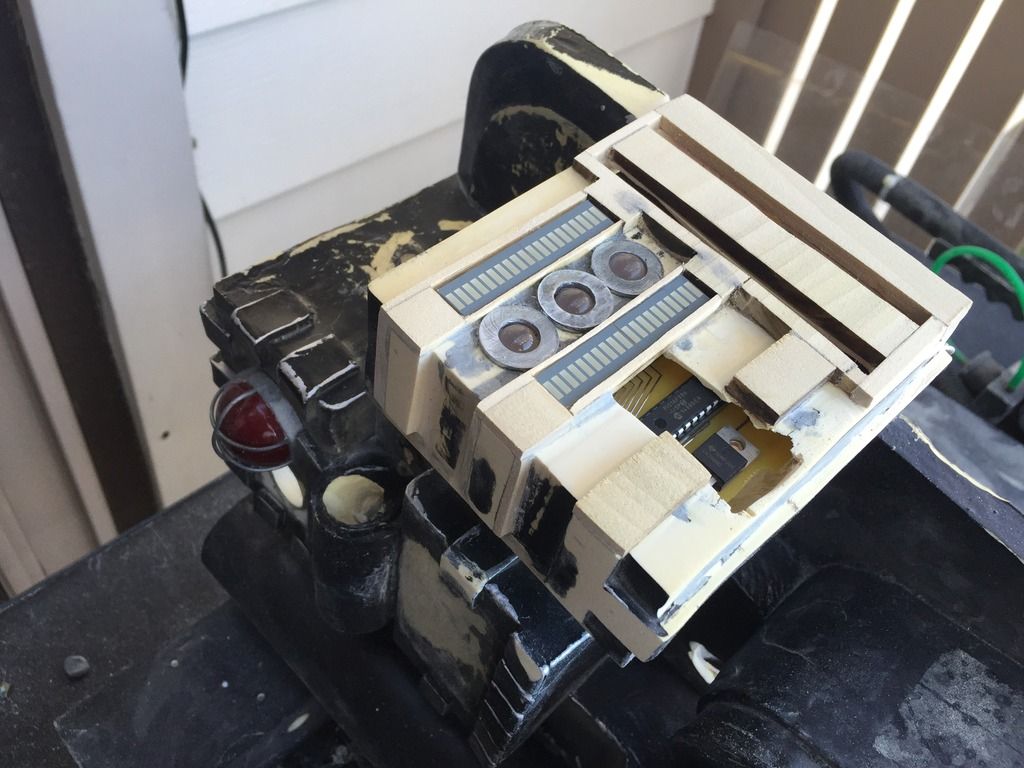 After some clean up on that I decided to tackle the other side and since those ribs are totally different on the game pack, again I took them all the way down and started from scratch. This shell would not have every game accurate mod done, but I did the one I thought were most noticeable. Four instead of five. For the transparent plates I used four plexiglass squares. Basically two sandwiches of it with wax paper in between and glued together.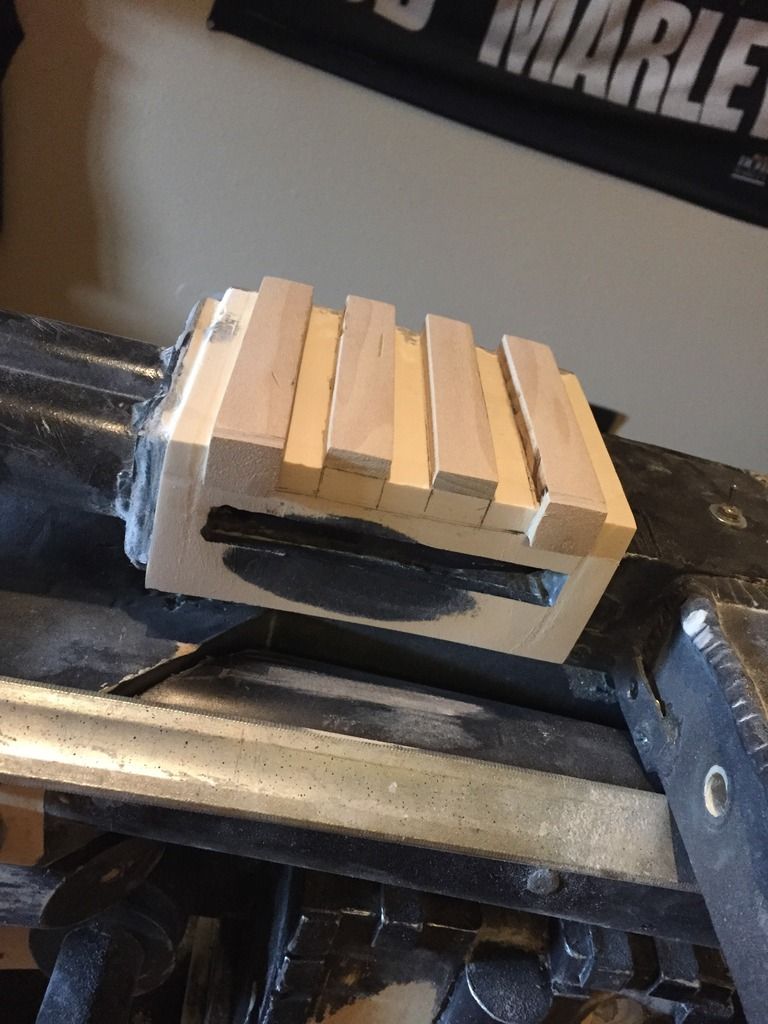 Then I moved onto the paint. I know a lot of folks don't prefer the siver base coat but I do.
After that I slowly applied the parts. Found some semi accurate game fittings. The plugs on the game fittings don't stick out but I kinda like it. I'd also love to find or modify a Clippard valve to put on this later and maybe a booster frame as well. Aside from that I don't like some of the other things about the game pack like the n-filter. A few member here have replicated these parts perfectly and that's awesome but I suppose mine will remain somewhat of a hybrid for now in those areas. If anyone has any parts suggestions I'd of course love to hear them. This is how it looks cosmetically at this point.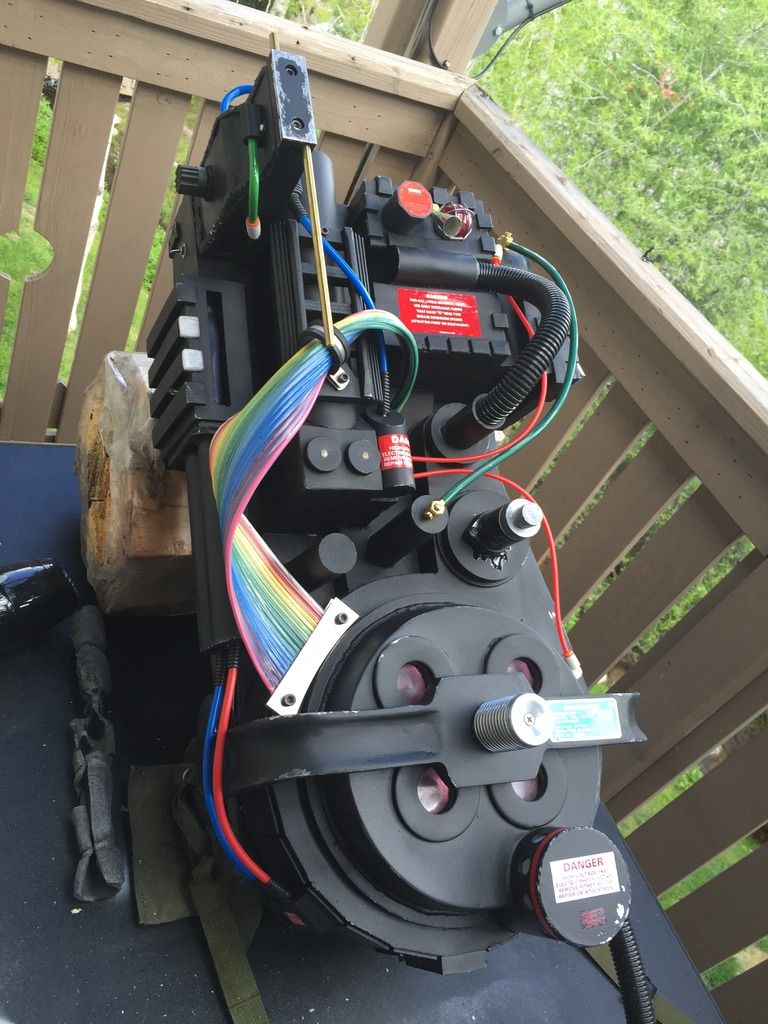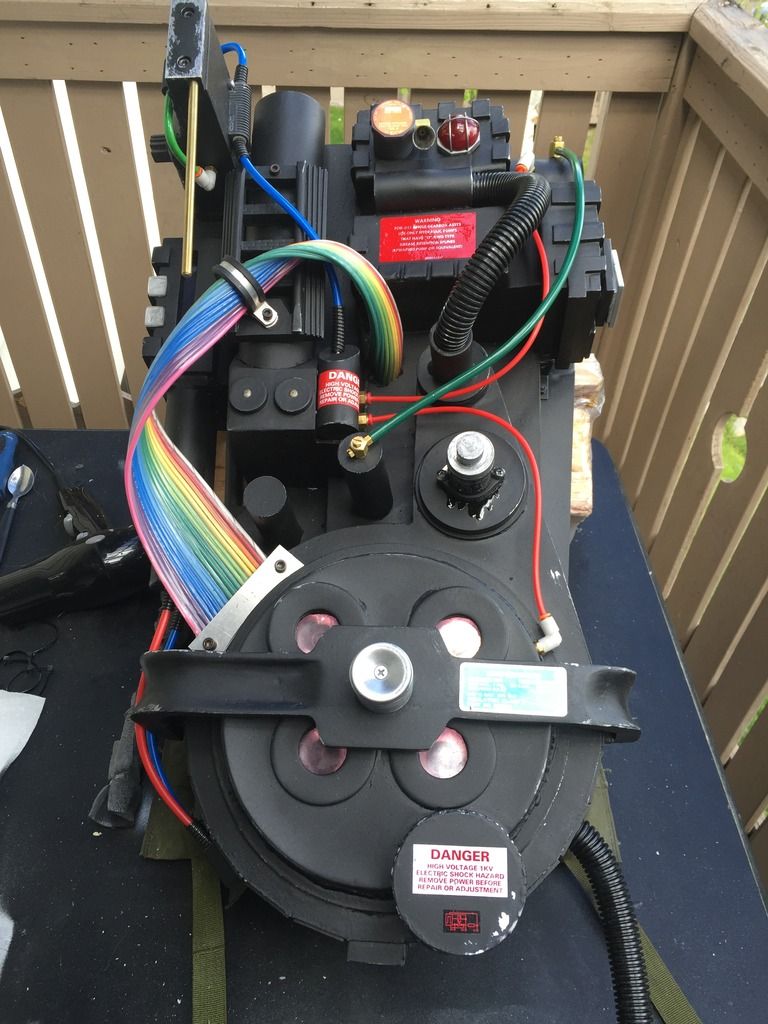 I'll be loosing those ugly lenses when I get a new light and sound kit. Fincher n-filter game vent and ribbon cable, The Nickatron EDA's and Clippard spacer, GBfans metal labels Heavy Props injector tubes and vacuum plug. Also Spongefaces amazing 3d printed HGA game insert. Other parts were on it when I bought it just modified. Didn't really do anything special to the thrower like enlarge the vent slots but I did add an ecig and arrage the banjo fitting and hose to a more game style orientation.
Here's with the Jupiter board illuminated and not.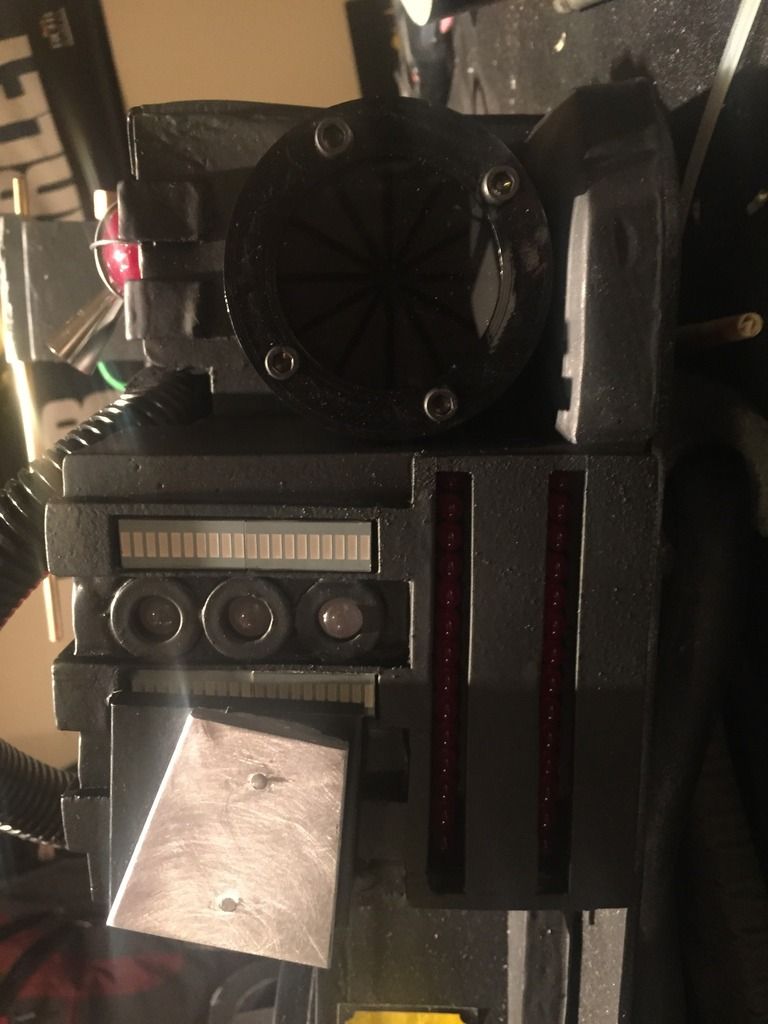 Also a few pics with smoke.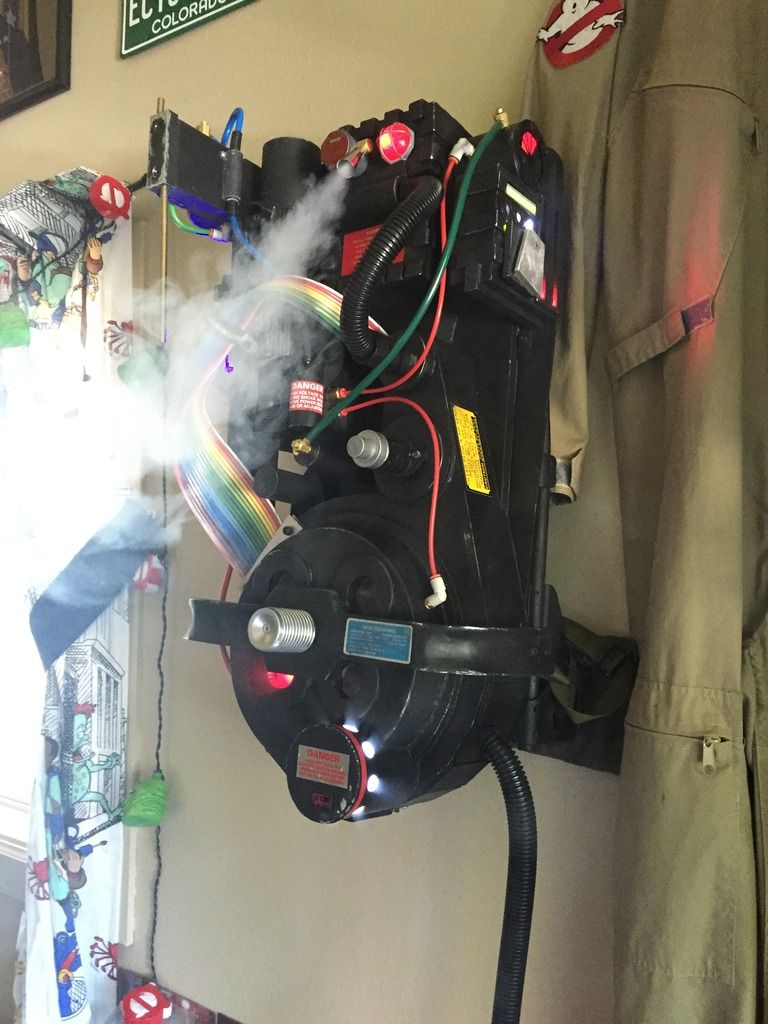 I may take it all the way to a fully upgraded pack one day if those parts become more readily available and or if my tool collection improves. As we know, it's a journey but this is how it looks currently and will Tomorrow at Denver Comic Con. I hope to make it to SDCC and maybe Dragoncon too so you'll hopefully see it in person. I'd love to see some of the other amazing packs you guys have done in person. And lets face it. Besides adding a new light and sound system I'll probably be doing other things I don't even know about yet.
The Ghostbusters reboot makes Blues Brothers 2,000 look like the Shawshank Redemption.

-Fawn Lebowitz